If you have been offered a cell-based or gene-based treatment, we recommend that you discuss your options with a range of people. These might include your primary doctor and other trusted healthcare professionals familiar with your condition, your family and caregivers, and a support or advocacy charity related to your condition.
Before you make a decision, you are entitled to full and detailed information about the treatment, including the scientific evidence behind it, and the benefits and risks. It is important to understand which authority it has been approved by and to have all your questions answered about the personnel involved. If you are required to make a payment, before you do, find out why and examine the details of what is covered.
We have prepared an ABC of five key areas to consider that may be a useful starting point for a discussion with your healthcare provider.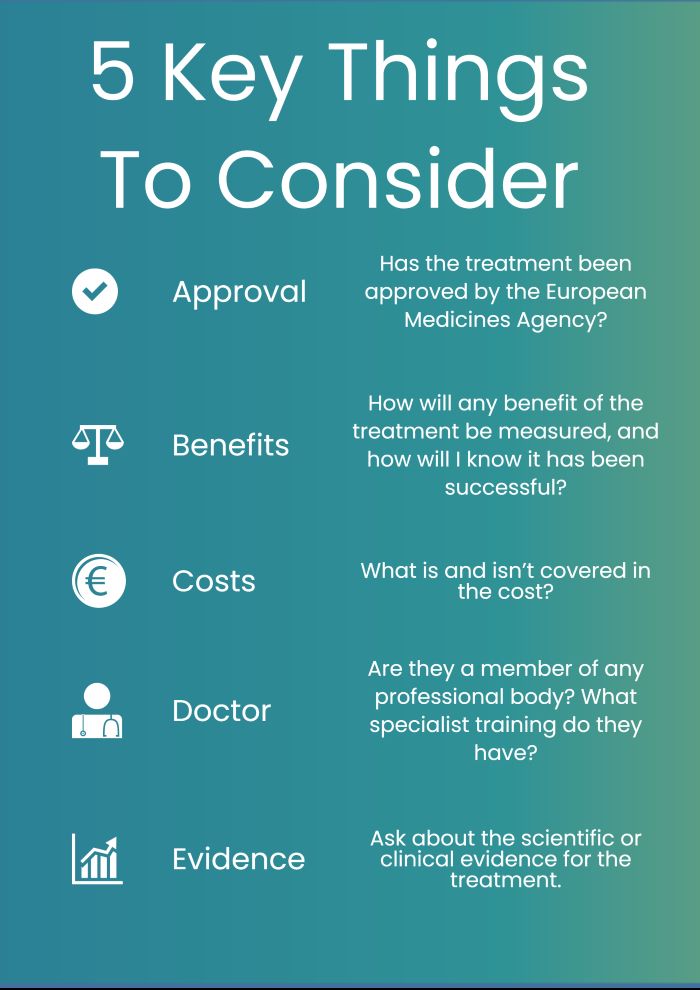 Approval: Has the treatment been approved by a national or international regulatory body such as the European Medicines Agency?
Benefits: How will any benefit of the treatment be measured, and how will I know it has been successful?
Costs: What is and isn't covered in the cost? For example, follow-up care, emergency treatment and compensation for injury?
Doctor: Find out about the doctor who will perform the treatment. Are they a member of any professional body? What specialist training do they have?
Evidence: Ask about the scientific or clinical evidence for the treatment. Where was it published?
The International Society for Stem Cell Research (ISSCR) has an excellent longer list of questions to ask. It focuses on stem cell treatments, but many of the questions are relevant to other types of treatment. This resource is part of A Closer Look At Stem Cells, a website run by the ISSCR that provides patient-focused information that can help you evaluate potential treatments.